I want to increase awareness of the importance of backups. After an eye-opening incident, it was clear that WordPress backups need to be off-site – not on your hosting's servers. Our favorite and free solution, a plugin called UpdraftPlus is perfect for this purpose, as it allows sending backup data to cloud providers. It does everything automatically and periodically. I hope this review of UpdraftPlus will save you from a catastrophic failure in the future.
The incident
It wasn't that long ago that a hosting provider committed a mistake and the demo site of Justified Image Grid was down for several days. I could never have imagined that I need protection against errors of the host. Commonly, backups provide a safety net against the aftermath of hacks or human errors of the site owner. Granted, hosts deleting everyone's data is rare, and often they have their backup. In this particular case, they had, but it was so off-site that it took forever to restore everything. Eventually, I forgave the host as I'm with them for almost a decade, but at the same time, I'm with open eyes, looking for a better alternative.
What's worse is that I did have a backup solution, but I skipped the most important part: getting the data off the server. Off-site backups are commonly recommended for personal files as well. Those that religiously back up their data often say one backup is no backup. I could write a book about the peculiarities of backing up terabytes of personal files. Thankfully, a WordPress site backup is often way smaller and more manageable.
Features of the free UpdraftPlus
Fortunately, the free version offers every single feature that I need. Yes, it has a premium version, but I never needed it (sorry, devs!). The upsell is not strong with this one, unlike the competition. It's not a plugin that is always in-your-face. It does its own thing in the background, silently. It's even tucked away nicely in the Settings menu of the WordPress Dashboard.
What does it back up?
A significant factor in creating the backups that the plugin knows the difference in importance between the database and the files. Mostly everything that you do to your site goes into the database, such as your content. Regarding files, it knows what folders of a WordPress installation are irreplaceable, and where the common core files are. In turn, I can do weekly file backups but daily database backups. The data will not include the boring WordPress core, because you can always download a fresh copy of that. This practice helps to keep the backup files somewhat smaller and faster to create.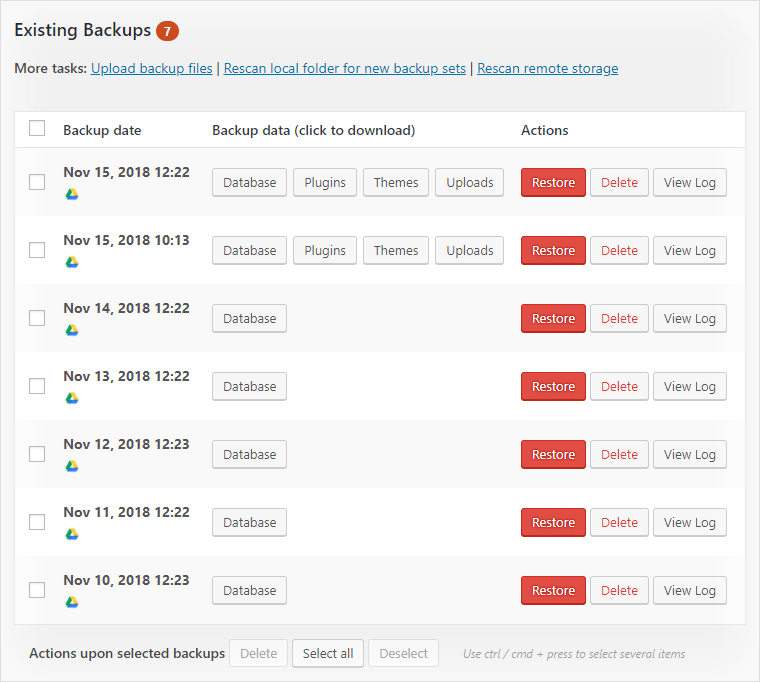 Regarding files, it creates three ZIPs: uploads, plugins, and themes. Their content corresponds to the respective folders on the server. The database file is fundamentally an SQL file. How often UpdraftPlus creates these is up to you, and it's also possible to initiate them on-demand.
Remote storage options
There aren't too many settings in the free version, which I like. Thankfully, cloud providers made the cut, so you can choose a single destination where UpdraftPlus will upload the backups. I chose Google Drive as a nice amount of storage space comes with every Google account, and I consider it safe. DropBox or FTP works fine as well, but check the screenshot! The plugin communicates with cloud services using their API, which requires a one-time setup. After that, they'll start to appear in the remote storage magically.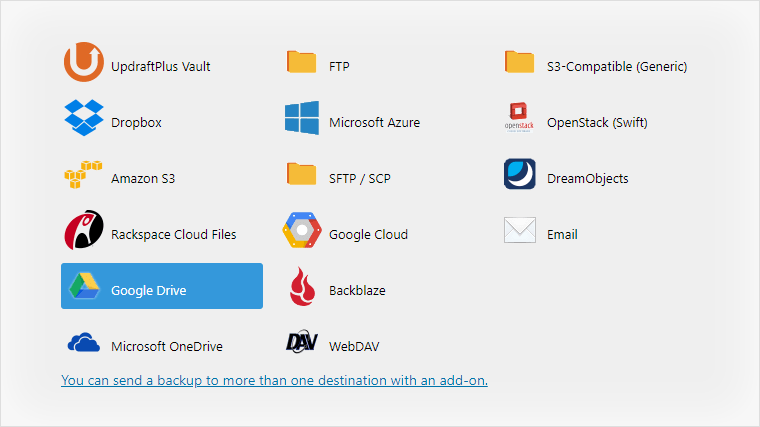 Scheduling frequency and clean-up
I've found that the free version offers just enough control over the recurrence of backups. Allegedly, the paid one offers more granularity. For me, every 4-8-12 hours, daily, weekly, fortnightly, or monthly is more than enough. The schedule is separate for files and the database. A nice aspect is that you have the option to auto-delete old backups, by keeping just the most recent few. Auto-pruning them helps with space restrictions on your cloud platform. Unless, of course, you have unlimited cloud storage… ¯\_(ツ)_/¯

Restoring or copying a WordPress site with UpdraftPlus
My review wouldn't be complete without simulating a failure. I'll only use the files UpdraftPlus generated, as I try to restore (essentially copy) this WordPress site in an empty folder on the server. The process could be used to formulate a staging site, with some adjustments of course.
Here's what I did
Cleared our staging site's assets – files and database – as if they were lost in the fire.
Uploaded virgin WordPress files, to start a clean installation.
Set a proper wp-config file (for database connection). I kept a copy of this file, which hardly ever changes.
The process will remove everything from the database anyway, so I rushed through the installation with a silly username and password.
I installed the UpdraftPlus plugin (free version).
Then I uploaded the backup files to it and ran the restore.
At this point, UpdraftPlus has shown me a friendly warning that the source site is not the same as the target. If you are restoring and not migrating, this would not be an issue for you. For me, I had to take an extra step to change the source host to the target host, using Database Search and Replace Script in PHP which is an advanced tool (but a dream to use), that is recommended by the Moving WordPress article.
The fine results
Eventually, UpdraftPlus pleasantly surprised me because it all worked just fine, with everything restored correctly. If you are restoring a site and not migrating, you don't need to touch any database tool such as phpMyAdmin. Fortunately, I didn't need to extract ZIP files, nor inspect any SQL file. UpdraftPlus almost made it look easy!
To sum it up, UpdraftPlus is an excellent, free, and minimalistic plugin. Currently, it has more than 1 million active installations. It boasts a ridiculously high 5-star rating where the ratio of anything less than five star is minuscule. We can wholeheartedly recommend yet another gold standard plugin, as we use it on every site we own. In essence, it does its job very well and nothing else (no bloat). It's too good to be free. The verdict: look no further!
Disclaimer: We were not asked to write a review, paid or otherwise, and are not affiliated with UpdraftPlus. The above article merely represents our honest opinion.