Human life is finite and too valuable to waste our time. Because of this, it's worth contemplating what do we invest our time in, regarding both private life and work.
For a long time, I've thought that we need to be efficient to reach success. It's important to plan how and using what we'll build ourselves. We need a strategy.
As web developers, we create and sell WordPress plugins. The first point of contact with our customers is the demo site of our products. Historically, we've built these sites from the ground up. However, it was hard to follow the ever-changing design trends – coders and designers had to work together continuously. We were sad to see that building a site from scratch took a lot of time away from other vital tasks.
When confronted by this, we switched to using premium themes from ThemeForest and consumed quite a few in the past years. In work logistics, it was a critical point for the designer to be able to build the site without coding knowledge, almost alone. Yay!
The world of themes was a significant change from our beginnings. Attila, the coder, barely needed to intervene (that's only partly true), so as a designer I, Denes, could almost handle the design work solo. However, there remained plenty of limitations. The bound layout usage, which means in many cases we ran into a fixed design. It started to feel as we were building something from the ground up again. So we needed to look for a new way.
The first generation of site builders appeared a few years ago. They let a creative guy like me see his ideas quickly come to life, and allowed for instant plan refinement. I first met a builder like this as bundled in a premium theme. I liked the freedom of self-sufficiency that was finally possible with it. Even though builders mostly fulfill expectations, they are not absolute solutions. They still have their limits that make custom ideas only possible via coding (Custom CSS). As we know, there is no perfect solution anyway. It's a massive plus that our work process has accelerated by allowing parallel work, and we reached greater efficiency.
The number of site builders continuously grew in the past couple of years (and it's still growing). As the better ones liberated users from rivals, leading brands formed along with their fan bases.
In this viral spread, the letter "E" has surfaced on the horizon only to charm me among a million other users in the web world. This enormous number reassured the rightness of my choice. It was a smart decision by Elementor to offer a free version. Even this variant allowed us to design complete pages and let us acquaint ourselves with the features without risk.
I learned a lot about the developers' logical thinking during the regular use of Elementor, and I've formed a sort of invisible connection with them. This personal touch led me to further thoughts, which I share with you in the form of an interview.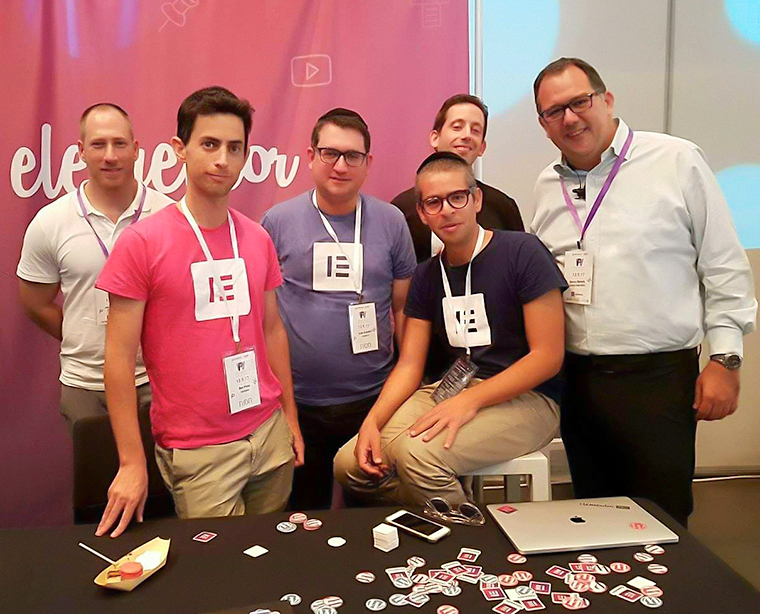 What does time mean to you and how do you manage it?
I think there needs to be a balance between scheduling your time while not micromanaging it. I run a broad calendar where I have big tasks spread throughout the day. The tasks, however, aren't divided into hours, so I am not managed by the calendar. This way, work remains fun and creative, yet you still get things done and can reach your daily, weekly and monthly tasks and goals.
How old are the oldest and youngest members of the team?
Ohhh… That's something you don't ask a lady. 🙂
The oldest is probably in their 50s (It's rude to ask!). The youngest is 19.
Have you ever counted how much time you invested in the Elementor project? If you tally everything, how many hours have you spent?
Just me or the whole team? 3 years times 24/6 a week… Kidding. Probably I've spent around 13,104 hours until now.
I can notice traces of careful planning in the builder. How much further along the way are you with current plans, or how far in advance do you plan ahead?
We are actually a lot further along. We have many plans for 2019 and beyond. Many projects for 2019 are already months in the making, and further along, plans are already in the planning phases.
A million downloads on Elementor is a considerable responsibility. How can you tame this kind of power?
Since when we started (5 people) to where we are now (53 people) and beyond, we have always built Elementor with the highest responsibility in mind. This is a huge part of what made our product successful. You can see it in everything we do. How we build code, how we write tutorials, how we answer support tickets. People entrust us with the delicate task of web building and we do everything in our power to keep that trust.
You have a good number of people working directly on the team, but we find some freelancers around you. What aspects or filters do you apply when choosing your partners?
We work with who we love. No filters. Troy Dean, Authority Hackers, Dave Foy, Adam Preiser, SiteGround, WPEngine… There are no rules, just a mutual appreciation and willingness to work together.
You contribute a lot to the Elementor community, that receives much-needed information for its work on various platforms. How much time does your attention require, how do you solve this task?
We do many things to contribute to the community. We constantly release and add new product features, tutorials, webinars, answer questions and more. It requires a lot of attention but that pays off because this is how the trust is built between us and our audience.
Elementor has a sizeable codebase, have you ever ran into a dead-end street that required re-writing substantial parts of the code or changing the concept?
Yes, definitely. Many of the interface changes we made were inspired by our user's feedback. Changing the handles to right-click, for example, was a big change in terms of UX. We never shy away from making changes, even if it is sometimes painful because the ultimate goal is bigger than the initial adaptation – offering the best web design platform, with no compromises. This is what makes great software in any field. Android is a great example of that. If you consider how the OS evolved through the years it's really spectacular.
You already completed several facelifts. Are you still nervous when doing large updates?
Always. I think this concern is important – and it drives us to keep developing more tests, run more beta testing and generally reinsure smooth updates
The original plan was to create a builder tool that web professionals find easy to use. After X years, we can say that this is completed. What is your next goal?
Our goal is to provide the ultimate solution for anyone building websites. We still have so many areas to explore in terms of design tools, marketing tools, and development tools.
Seemingly, you've accomplished everything that's possible (haha). After all this time, what is it that still motivates you to achieve further success?
We strive to be the ultimate solution in terms of web design and web creation. Since websites keep evolving, this is a never-ending and always evolving and challenging task.
Being a pioneer is a hardship. Even so, if you had to name someone as a role model, who would it be?
Personally, I see my role model as Jordan Peterson, even though he is a philosophy and psychology lecturer and doesn't deal with marketing directly. The way he makes complex issues simple and understandable is very inspiring since that is exactly what marketing does. I personally love creators who are masters at delivering content and story. What comes to mind is Nerdwriter1,  who is unique in how he conveys ideas. Another influence is John Oliver and his show, who turns boring politics into easy to digest and funny content.
As a team, you are also a community. Do you spend time with each other outside of work? Are there friendships?
Yeah for sure. We should do more, but most of us are with young kids. Lately, we started meeting more and I hope this trend continues. We have our office laughs and it's a huge motivator for everyone.
What is the average day like for a manager in your team?
Every day is different. I get into the office, drink my coffee, run over emails (that's my least favorite part – I truly hate email), then deal with the tasks at hand. I found out (in an interview with Tim Soulo of Ahrefs) that I actually work according to the Pomodoro technique without my knowing it. Short 25-30 minute spurts focused on a single small task until completion. Then rest. Then repeat.
Your customer base is pretty broad, who is the biggest name among your users? Who are you most proud of?
Probably Envato who we recently partnered with. Before we partnered with them they already used Elementor on an important sales page they created.
Since you have a good site builder, do you offer freelance work and customizations? If not, what do you do with the constant barrage of requests? 🙂
We don't offer freelance work. We listen to requests and address them according to priority.
People save a lot of time with Elementor, which can be measured in weeks for larger projects. If you were gifted a free week, what would you do with it?
Mmmmm… Either take my kids off kindergarten and spend the week traveling, or enter an improv workshop (that's my favorite past time hobby).
The answers were given by Ben Pines, the Elementor team's CMO.